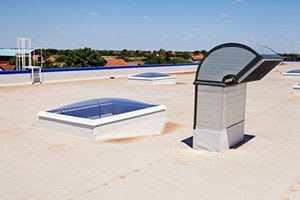 Your roof is one of the most important parts of your home or business. This is why if you encounter problems with it such as leakage or storm damage, you certainly do not want to take your chances on a just any flat roof repair company.
You can count on Myers Select Roofing to have the experienced roofing contractors who can readily install, replace, or repair your flat roof. We offer flat roofing services for residential, commercial, and multifamily buildings. Rest assured that your home or business —and your roof— is in good hands with our roofing specialists.
To receive your free quote, please contact our roofing contractors at 636-528-4111.
Complete Flat Roof Repair & Replacement Services
Flat roofing systems are a common roofing solution used on many Missouri buildings. The team at Myers Select Roofing can install, repair, and replace a variety of flat roofing materials including TPO, EPDM, and modified bitumen. Our complete flat roof repair and replacement services include:
Roof installation – Not all buildings are the same, which is why we will evaluate your building in order to determine the roofing system that is best suited for you. Our commercial roofing contractors will also ensure that it is installed properly for lasting durability and performance.
Roof repair – Just like any other construction material, flat roofing systems may require repairs due to normal wear and tear and exposure to harsh weather. We provide quick and efficient flat roof repair services for all types of flat roofing systems.
Roof replacement – There will come a time when no amount of repairs can fix your roof and a complete re-roofing is the best option. We can look for a suitable roof replacement and have it installed properly on your home, commercial building, or facility.
Why Should You Hire Us for Flat Roof Repair Services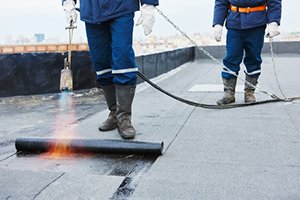 Flat roofing systems require skills and technical knowledge that can only be gained through years of experience, something that many roofing companies do not have. Rest assured that our flat roof repair technicians know what they are doing. After all, we have been in the roofing business for more than 15 years, serving the greater portion of eastern Missouri.
With over 50 years of combined management experience working on roofing projects, you can trust us for any roof repair, installation, or replacement. We also provide free estimates and inspections and can help our clients when it comes to filing insurance claims for flat roof repair or replacement.
Learn More About Our Flat Roof Repair Services
Call us today at 636-528-4111 so that our roofing contractors can show you why we are the preferred flat roof repair provider in St. Charles and Lincoln Counties in Missouri and the surrounding areas.